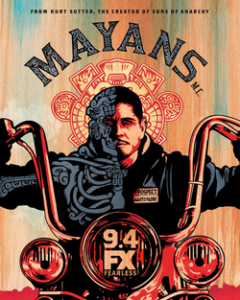 Är du en av många som saknar Sons Of Anarchy? Måste erkänna att sista avsnittet lämnade ett hål i hjärtat men jag hoppas att den nya spin-off serien kan fylla igen det hålet. Det har varit mycket prat i medier och liknande om att det skulle komma en spin-off och nu börjar det äntligen närma sig!
Mayans MC har premiär den 4e September. Och jag har höga förhoppningar om att den kommer bli en succe!
Serien kommer utspela sig 2,5 år efter Sons Of Anarchy.
HÄR kan ni hitta mer info om skådespelare, handling och dylikt.