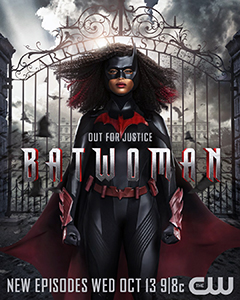 Batwoman's Ryan Wilder finally got her life together, but now it looks like her troubles are only just beginning. As you'll recall, Ryan (played by Javicia Leslie) was released from parole, moved out of her van and finally accepted the Batwoman mantle as her own, following a heart-to-heart with Kate Kane. Then, during Ryan's season-ending visit to Arkham Asylum, Alice dropped the bombshell that her frenemy's birth mother was still very much alive. Season 3 of the Arrowverse series, premiering Wednesday, Oct. 13 at 9/8c on The CW, will tackle the fallout from that reveal.
"It's really like opening an old wound, and Ryan's not sure if she wants to deal with it," Batwoman showrunner Caroline Dries tell TVLine. "Part of her thinks Alice is messing with her, and deep down is hoping that Alice is messing with her, so she doesn't have to deal with this. What she ultimately learns is Alice was telling the truth."
With the Season 3 introductions of Jada Jet (played by Robin Givens), a business tycoon who may or may not be Ryan Wilder's potential birth mother, and potential brother Marquis Jet (Law and Order: Organized Crime's Nick Creegan), Ryan will struggle with a potential family that is very different from what she used to fantasize about as a foster kid. This will make things even more complicated for the caped hero, who has her own mess to clean up with the Bat trophies that went missing in Season 2. Former GCPD detective Renee Montoya (Gotham's Victoria Cartagena) will lead the charge in the recovery of those dangerous objects. "She's old school, and she's been around, and she remembers Batman's Gotham and Gordon's Gotham," Dries says. "She knows that things don't end well when people get their hands on [the Bat trophies]," Dries explains. "[Both Kate and Ryan as] Batwoman have done a great job of keeping the streets relatively safe for the last few years, but Renee sees a storm brewing — and she is terrified." […] –Tvline.com
Säsong 3 av Batwoman har premiär på The CW den 13 oktober.
Säsongerna 1-2 finns att se på HBO Nordic, oklar i skrivande stund om/när även säsong 3 kommer att visas där.