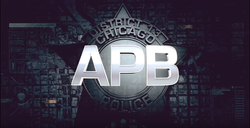 Är du en så kallad "teknik freak"? ja då är denna serien perfekt för dig.
Efter en personlig tragedi bestämmer sig Gideon Reeves att ta sig an den största tekniska utmaningen i sin karriär.
Han tar över District 13 och gör en total uppgradering, en app för att anmäla brott, en elpistol som kan skjutas från långt håll, en helkropps väst, en jacka som fungerar som en kamera. och mycket mer.
APB har premiär i USA den 6 februari på Fox.
Serien är svagt baserad på "Who Runs the Streets of New Orleans?" (artikel) av David Amsden och utspelar sig i Chicago,Illinois.