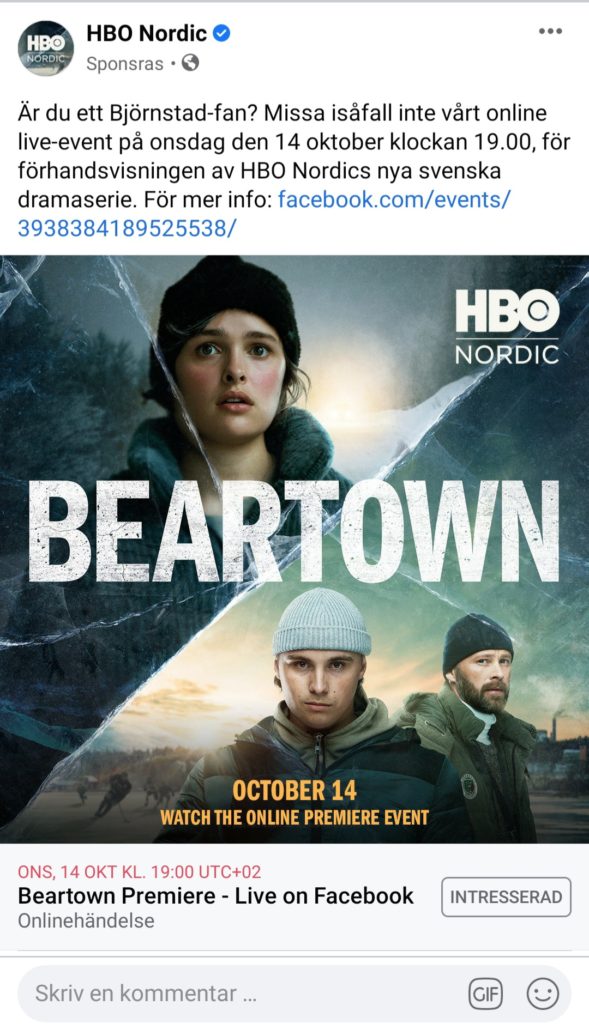 Beartown har premiär på HBO den 18 oktober men dom kommer ha ett litet event på Facebook den 14 oktober med visning av första avsnittet och en Q&A. Ni kan läsa all info nedan. ⬇️
Welcome to the European online pre-premiere screening of HBO Europe's new Swedish drama series BEARTOWN! The event will take place right here on Facebook, on Wednesday October 14th at 19.00 CET.
The event will start with a screening of the first episode of the series followed by a Q&A panel with key cast members Miriam Ingrid (Maya Andersson), Oliver Dufåker (Kevin Erdahl), Ulf Stenberg (Peter Andersson) and director Peter Grönlund. The episode and Q&A will be in Swedish, but everything will have English subtitles. Episode 1 of Beartown is approximately 60 minutes long, and the entire event will be around 1,5 hours.
Beartown tells the story of a small town slowly losing ground to the ever-encroaching trees surrounding it. Local hero and former NHL star Peter comes home to Beartown to coach the junior hockey team and secure the town's future. Carrying the entire town's hopes on their shoulders is a heavy burden for the Beartown boys. When the team's star player is accused of a horrible act, it leaves the town in chaos and no resident unaffected. The drama series is based on the best-selling book by Fredrik Backman.
The first two episodes of Beartown will premiere October 18 on HBO streaming services across Europe:
HBO Nordic: www.hbonordic.com
HBO España: www.hboespana.com
HBO Portugal: www.hboportugal.com
HBO GO (Central Europe): www.hbogo.eu (Poland, Hungary, Romania, Czechia, Slovakia, Croatia, Serbia, Bulgaria, Bosnia and Herzegovina, Montenegro, Macedonia and Slovenia)
The series is recommended to people ages 15 years and over.
The event is open to all fans, you don't need to be an HBO subscriber to attend.